These are training products designed to fit your particular sports whether it's baseball, basketball, football, hockey, golf or track & field. You can find it here.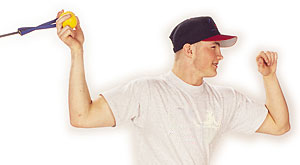 • Build Your Throwing Strength & Technique
SPEED BALL
Great for preventing or rehabilitating throwing injuries by isolating specific arm positioning. You can develop strength through the full range of motion. Hold the Speed Ball like a normal ball. This super stretch latex cord resists your exact throwing motion. This will help increase ball speed and accuracy.
| | |
| --- | --- |
| KSBA / Speed Ball – $24.95 | |
---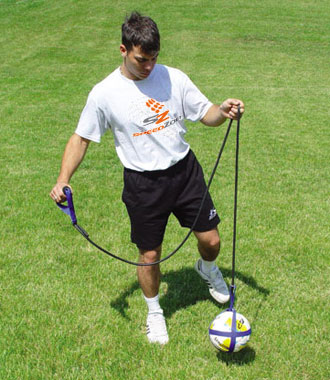 • Excellent for solo soccer!
• 8' adjustable length latex for rebounds!
SOCCER REBOUNDER
A player must be able to master the basic skills of the game. Soccer skills are mastered only by performing them over and over, but practice makes permanent. So we recommend that you work on improving individual skills with the soccer rebounder on your own time so you will be able to perform better on the field.
| | |
| --- | --- |
| SRE / Soccer Rebounder – $24.95 | |
---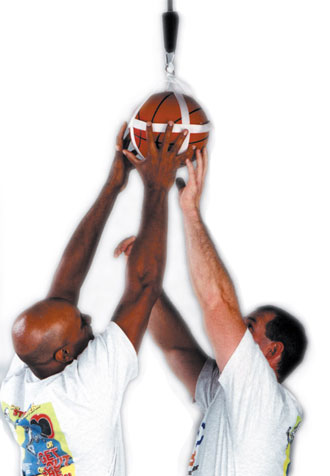 BASKETBALL GRAB & CONTROL SYSTEM
Helps develop jumping, rebounding, grab and control skills. Basketball players jump, grab the ball and pull it in while opponents attempt to steal it away. This product teaches you to firmly grab the ball, improving ball handling skills during competition.The Basketball Grab & Control System is also an excellent tool for football, volleyball and soccer, improving the athlete's ability to jump higher and decrease reaction time. Simple to use. Just deflate basketball, insert into the durable nylon strap, inflate the ball and attach the super stretch latex cord to the goalpost or backboard. Comes complete with super stretch latex cord, all necessary hardware and instructions.
| | |
| --- | --- |
| KBGGS / Grab & Control System – $32.95 | |
---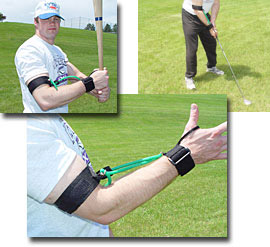 • Increase Power!
• Quicken Your Swing
• Eliminate the "Bar Arm"
POWER PUNCH
The Power Punch is to strengthen and position the lead arm while hitting the ball. This also prevents the athlete from getting "Bar Arm", which is to extend the lead arm earlier than needed.
| | |
| --- | --- |
| UPPY / Power Punch Youth – $34.95 | |
| UPPA / Power Punch Adult – $34.95 | |
---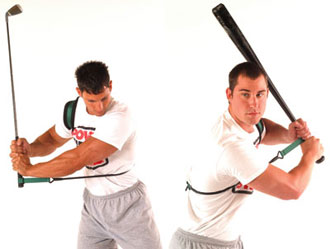 HITTING CORDZ 
Bring progressive resistance training to your swing motion. Increased resistance promotes greater power, which results in superior distance when striking the ball. Reversible to provide resistance against or assistance through the swing movement. Made of sturdy nylon and strong rubber tubing. Padded shoulder strap adjust from 42″ – 63″. Colors Vary.
| | |
| --- | --- |
| KHC / Hitting Cordz – $59.95 | |
---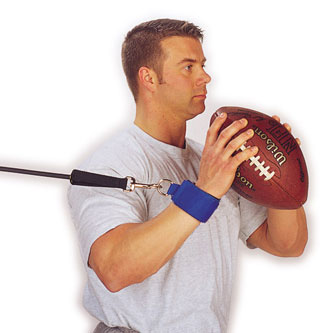 WRIST BULLET
Use resistance to develop your throwing arm. It will not affect your throwing technique. Use indoors or outdoors. It comes with 8 feet of super stretch latex tubing that will allow you to use your normal throwing motion. The Wrist Bullet has a padded band for comfort. Attach the Wrist Bullet to a secure object.
| | |
| --- | --- |
| KWB / Wrist Bullet- $32.95 | |
---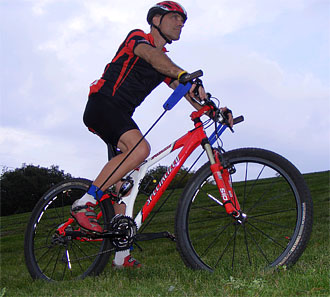 BICYCLE PEDAL POWER BUILDER
Experience the power and excitement of our New Pedal Power Builder! It will optimize your time spent on the bike or stationary bike and build your cycling specific muscles. Attach the strap to your ankle and the other end to your handle bar. The resistance follows you through on each pedal cycle. Comfortable, effective, fun and an awesome workout! You can even adjust the tension for a more powerful workout.
| | |
| --- | --- |
| BPPB / Bicycle Pedal Power Builder – $29.95 | |
---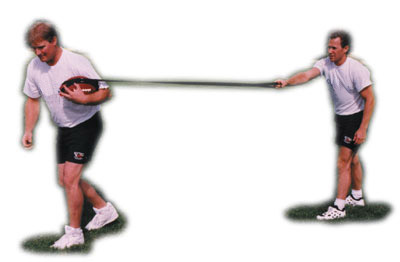 FOOTBALL / RUGBY FUMBLER 
The Football / Rugby Fumbler is designed for young, advanced or professional football players.  It teaches the athlete to grasp, control and be aware of the ball.  One athlete runs with the football, while the other runs behind holding the nylon strap rip cord, attempting to dislodge the ball from his hands. This teaches ball awareness and control, which becomes a priority as the ball carrier fights to maintain possession while maintaining the forward motion. Comes complete with all necessary hardware.
| | |
| --- | --- |
| KFF / Football Fumbler – $19.95 | |
| KRF / Rugby Fumbler – $19.95 | |
NOTE: If ordering outside the US, please call for shipping and handling charges or if you don't want to order online. Please call us at 952-881-6260 to place your order today.